Active Agile Leadership Skills
Why it matters
Avoid the growth trap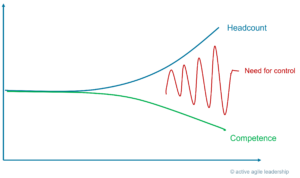 When growing rapidly, building competence at a faster pace than your headcount is critical to building a high trust culture. A key ingredient is Leaders as Trainers.
Lead through others
Expect to lead people who have more detailed knowledge than you, who are strong headed in an environment which rapidly changes.
Fast decision cycles with a sense of urgency
Fast decision cycles are essential to stay ahead of the curve
What makes this training program different
Rathern than learning one aspect of leadership, you get the essential skills to grow throughout your career.
Active Agile Leadership Skills has been field tested in fast growing organizations. Examples:
Kry (MedTech), Betsson (Sports betting), EnBw (Energy) and Allianz.
Both in and outside IT.

The Active Agile Training Philosophy is to always combine three things:
Certification
To get the Active Agile Leader Certification through this program, four conditions need to be fulfilled:
A certified trainer runs the training
You have at least 80% attendance
You understand the concepts and why they work
You have demonstrated that you can apply these concepts in your real-life workplace
Skills Modules
The training consists of 9 half-day modules over the course of two to three months. The program mixes theory and practice. At the a starting point of the program, each team or individual will select a "Change Challenge", driving a change that matters inside their. Coupled with the training, participants can also book coaching sessions with the trainers. 
1: Agile Leadership
Leadership in an Agile environment
Leading change
Building the environment/system that delivers results
Coaching leadership
Self-leadership
Challenge: Leading a change that matters
2: Building high performance teams
Recognizing a high performance team
A leader's role in creating the conditions where high performance teams come about
How to act as leader through the different phases of a team's journey
3: Facilitating groups to make decisions
How to facilitate a group of strong headed people to explore relevant options and to make decisions which they hold each other accountable for
4: Flow and Systems thinkings
Resource vs Flow optimization
Lean & Agile principles
A3 problem solving
How to improve flow
Resolving bottlenecks
Challenge: Improve flow through your unit
5: Training effectively
Leader as a trainer
How to train effectively
Challenge: Train peers on a topic of your own
6: Decision making under uncertainty
How to keep up the decision pace during high uncertainty
Avoiding the two traps: waiting for perfect information (too slow) or relying on gut-based decision.
How our brain makes decisions
The influences of biases
Techniques to improve decision making in different scenarios
Finding hidden opportunities
7: Communicating effectively
Keys to effective communication
Brief/brief back pattern
How-to give and receive feedback
Story telling
Setup
9 half-day sessions
Remote or in-person
One-on-one individual coaching
Participant quotes
"The format was fantastic, very versatile, one of the best training sessions ever."
– Werner Schäfer, Chapter Lead Digital & Marketing, EnBW
"I could use the examples in real life, really cool!"
– Katja Guiri. Brand Manager, Joyn
"Great compilation of the relevant concepts!"
– Holger Tangermann